News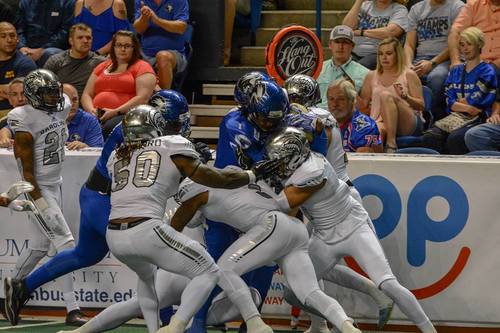 05/14/2018 5:27 AM
It was a back and forth game all night long in the Columbus Civic Center as the Columbus Lions were able escape with a one-point victory over the Carolina Cobras, due to some late game heroics. Wide Receiver Durron Neal was hauled in a 19-yard pass from quarterback Mason Espinosa to tie the game as time expired. Kicker Lindsey Wolfe then ended the game by converting the extra point to give the Lions the victory. Columbus trailed by two scores with just over a minute remaining. A quick score by Jarmon Fortson and big missed field goal by the Cobras allowed for the Lions to come from behind and win.
"I just told myself that I had to step up and make a big-time play and then Wolfe came in clutch to win it for us," Durron Neal said. Neal finished the day with six catches for 72 yards and 2 touchdowns.
Both teams were slow to start as the first quarter ended scoreless, but the neither team wasted time scoring after that as the score at the end of the first half was 23- 20 Cobras. The first half ended in a weird way as the Lions kicked it short and that gave the Cobras just enough time to march into the break with a three-point lead.
Both teams matched each other in the third quarter, before the Cobras pulled away to take 10-point lead heading into the 4th quarter.
With about four minutes left in the contest, the Lions roared back from a 13-point deficit to come away with the victory.
The passing game was dominant for the Lions as Mason Espinosa spread the ball around the field and threw for seven touchdowns on 276 yards. Triston Purifoy led the team in yards with nine catches for 110 yards. The standout though in the passing game was Jarmon Fortson. Fortson caught four touchdown passes on the game including a great leaping grab in the first quarter that helped the Lions take the lead.
This game was a huge for both teams. The Cobras came into the game at the top of the standings and now drop to 4-2. After the miraculous ending the Lions improved their record to 3-1 on the season.
Next Sunday the Lions travel to Lehigh Valley to face the Steelhawks. Kickoff is scheduled at 7 pm.